Adriatic-Ionian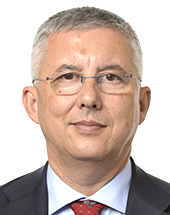 PAOLUCCI Massimo
 I was born 55 years ago in Naples. My political activism began in the 70's and has always been linked to the word "Left". In 1993, I was elected as City Councillor in Naples and had the fortune and the privilege to participate in one of the most positive periods in Naples' recent history: a period defined and described by many as the "Neapolitan Renaissance". I served as City Councillor from 1995 to 2001, with very operative responsibilities, such as traffic.      
From 2001 to 2004, I fought as Government Commissioner for Campania Region on the construction of industrial plants for waste treatment. In 2006 I was the City Councillor with the highest number of votes in the list of Left Democrats in Naples. In 2013, I was elected Member of the Italian Parliament in the Democratic Party's list and I involved in the Committee on Transport and Telecommunications aiming to contribute to the development of infrastructures that are vital for the revitalisation of Southern Italy. In 2014, again in the Democratic Party's list, I obtained 118,129 votes and was elected as MEP for Southern Italy.
I am a Full Member of the Committee on Environment, Health and Food Safety and a Substitute Member of the Committee on Transport and Tourism. Within the Seas, Rivers, Islands and Coastal Areas Intergroup I have been appointed as Vice-President in charge of the Adriatic-Ionian Region.
Politics has always occupied an important place in my life. However, I would not be able to accomplish anything without my wife, Pasqualina, and my two sons, Elena and Mario. And my friends: I share with them my several passions, such as sailing and cooking.
There are no articles in this category. If subcategories display on this page, they may have articles.