Social Issues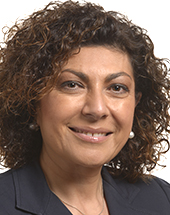 GIUFFRIDA Michela
I am from Sicily. I've spent 30 years working as a journalist in my Region, I have explained what it means to live on an island, how important the sea is and the difficulties islanders have to brave.
As a Member of the European Parliament I will continue working this way: taking care of those who live on fishing and tourism, those who have to struggle to move as they face a lack of transports, and protecting the environment and the sea.
Within the European Parliament I am a Member of the Agriculture Committee and of the Committee on Regional Development where I am Rapporteur for the S&D group on the Adriatic-Ionian Macro-Region and where I plan to push for the development of a Macro-Region for the Mediterranean.
It is an honour and a pleasure to be the Vice-Chair of the Intergroup for Social Issues. I intend to work to improve the working conditions and rights of those who face the sea every day. Traditional jobs, safety, as well as youth-related issues are among the issues to be prioritised.